Travel season is here and we're having a blast catching up with friends, playing a few holes in tournaments, and checking out the latest and greatest advancements in the field.
This week we're attending the 2022 Northwest Indian Gaming Conference & Expo (WIGA). We're excited to be attending for a number of reasons including that it's being held at the scenic Tulalip Resort & Casino. Aside from the beautiful setting, Justin is moderating a panel discussion titled "Social Media — An Operations Point-of-View."
Joining him will be JaNessa Bumgarner, CEO at Lucky Eagle Casino & Hotel, Kevin Zenishek, Executive Director of Casino Operations at Northern Quest Resort & Casino, and Letisha Peterson, GM at Legends Casino Hotel.
Social Media — An Operations Point-of-View
The scope of social media marketing has grown beyond the marketing department into everything we do as organizations to engage with players, employees, guests, and our local communities. Our panel will discuss social media from the operations perspective and provide some key takeaways for every leader in our industry to consider. How are we leveraging social media to innovate and attract new employees and/or players? How are we sharing news, events, promotions, and information about our casino property? What can we do to encourage participation throughout the organization to expand the digital footprint of our casino brands?
If you're attending WIGA and want to learn more about Social Media from an operations point of view, be sure to check out the session on June 21 at 4:00PM.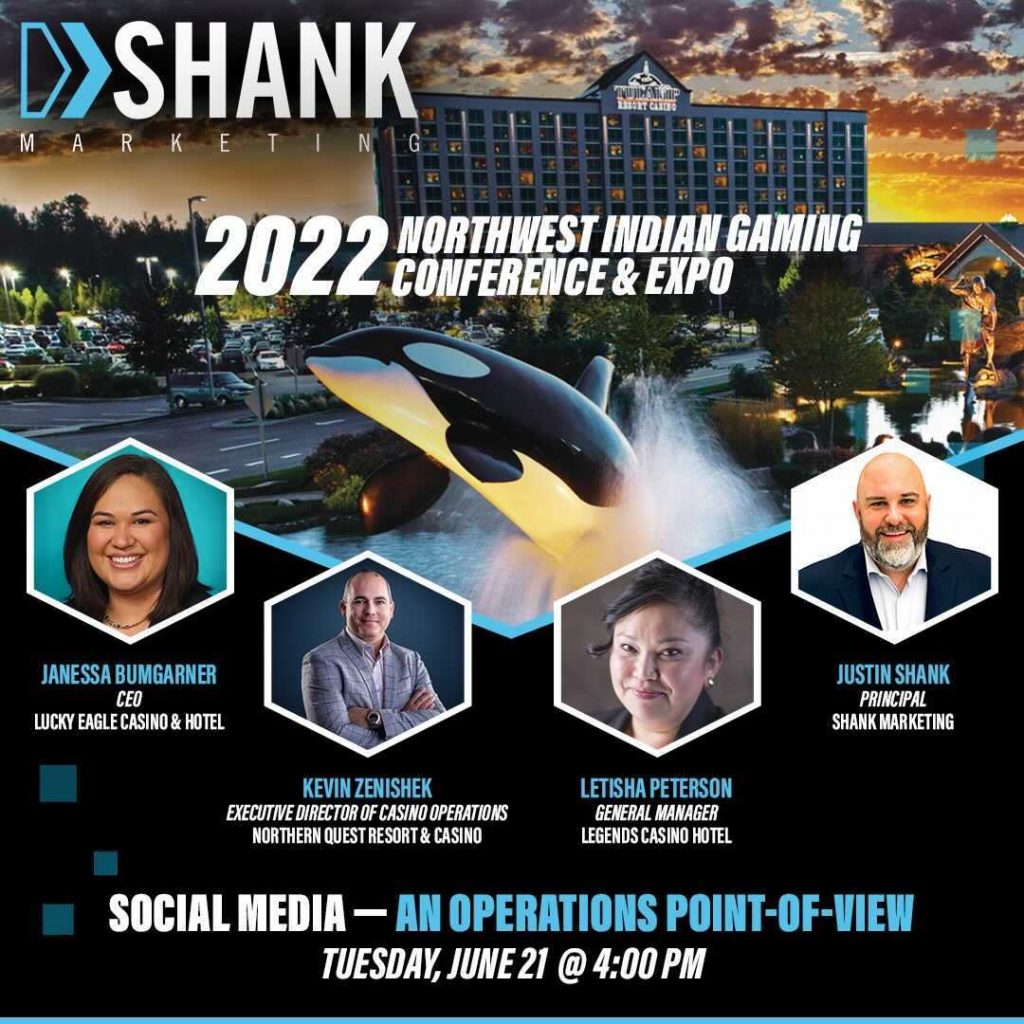 Over the course of the next couple months you can catch us at a few more conferences including the Casino Marketing & Technology Conference, The OIGA Conference & Tradeshow, and… of course, G2E! Slide into our DMs or send a text if you'd like to connect. We're always down for a cup of coffee, any and all snacks, and gambling action!
Our Upcoming Conference Travel Schedule:
July 12-13: Casino Marketing & Technology Conference — Las Vegas, NV
August 9-11: The OIGA Conference & Tradeshow — Tulsa, OK
October 10-13: G2E — Las Vegas, NV