This post was originally published on tgandh.com
WHY INTERNSHIP PROGRAMS ARE A HUGE RESOURCE
We're all dealing with a workforce shortage and the difficulty of finding and retaining marketing talent in this current job climate. Now is the time to implement a well-planned internship program to assist your organization in identifying talent that could add to your workforce and set up your organization for success in the future. This may not seem like a novel idea for casino organizations that have been running these programs for years, but any and every casino can benefit from offering similar programs.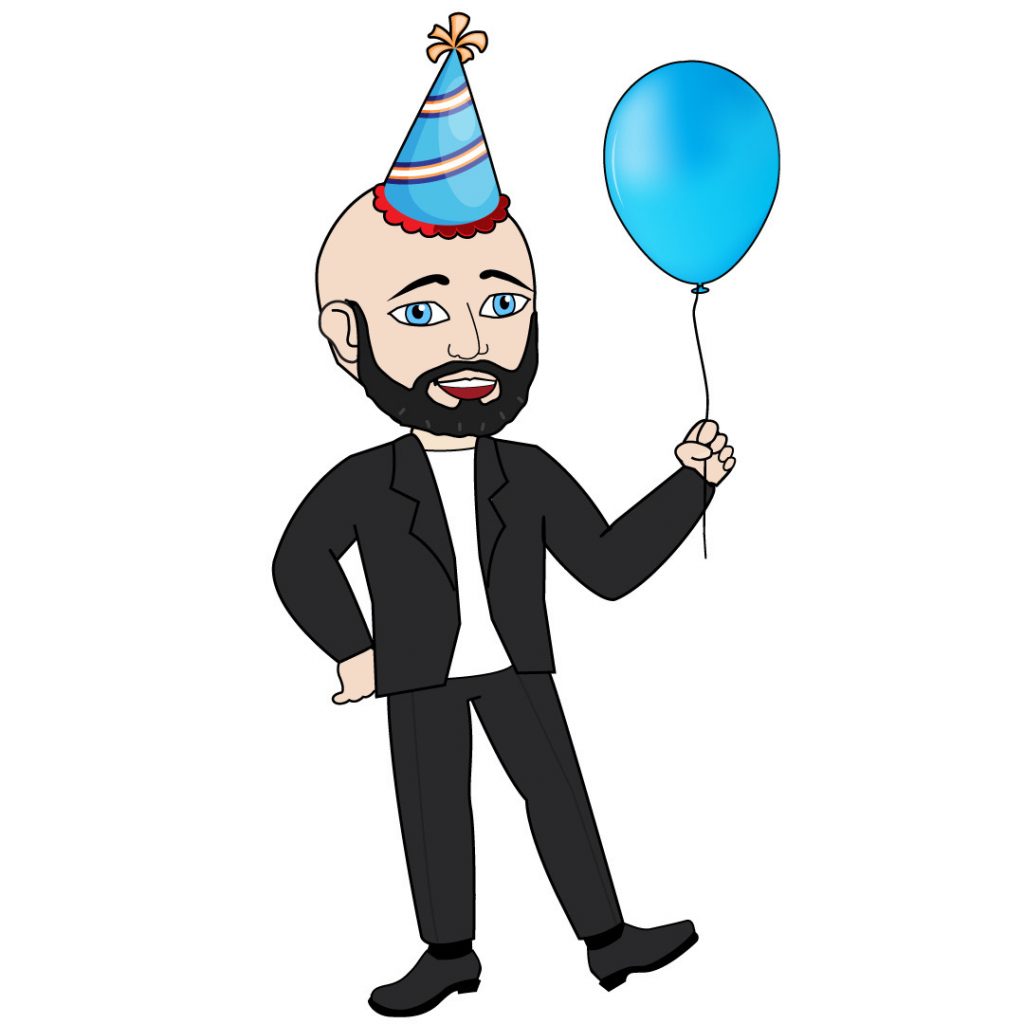 We're excited to celebrate a huge milestone for our team leader Justin Shank! He is entering a brand-new decade and we can't wait to see all he will accomplish as a friend and colleague. Birthdays are the perfect time to reflect on previous years and set goals for the future. Though it can be deeply personal and individual, looking back at the past decade of Justin's life, there have been so many obvious milestones and accomplishments.
He created and formed Shank Marketing, brought so many talented folks onto his team, married an incredible woman, became a homeowner, and most recently a proud doggie dad! We're so impressed and privileged to know Justin, and though we know we'll have many more memories and experiences with him ahead, we thought we'd share a little bit about what it's like working with him.
I have a slightly biased relationship with Justin as his younger sister, Amy. I count him as my first and longest best friend, a fierce protector from the moment I was born, and now an incredible mentor and leader that gave me the incredible opportunity to be part of this team. As someone still new to the crew, I wanted to hear more about how everyone else sees Justin. Here are the amazing responses they shared!
How long have you known Justin and what was your first impression of him?
"Just under two years. My first impression was that he was extremely intelligent, laid back, and a great leader" -Jenna Downs
"I think Justin and I met around 2012. However, I knew of him in 2010, as he replaced my position when I left Swinomish Casino. I heard about how awesome he was from my former co-workers and even my sister who worked there at the time. My first impression of him was that he truly understood marketing and how to interact with people. These are two things I still admire to this day!" -Abby Yates
"Seven years, he's a really fun guy to talk to and be around, very smart." -Jordan Crahan
"A little over a year and my first impression of him was that he really cares and is passionate about the work that we do, every day." -Olivia Rick
"Just since June! He seemed like a good guy to work with!" -Shannon Devine
What do you like most about working for Justin? What do you like most about him personally?
"It seems like anytime I am stressed out about something, Justin can put my own feelings into words better than I am able to. We are always on the same page! He is incredibly confident in who he is as a person, and I look up to that!" -Jenna Downs
"I don't think Justin considers any of us to be working 'for' him. Rather, he sees us as working with him and collaborating as a team. He really works with every member of the team to bring out their creative side and work within the areas they are passionate about, and it's great to work with someone who can lead a team this way. The thing I like most about Justin is his giant heart. He has such a generous spirit and cares about our team, our clients, and Indian Country so much."-Abby Yates
"He takes such good care of our entire team. Really lucky to have the owner of a company care as much as he does. It seems like no matter how busy he is he always makes time to teach, mentor, and encourage whenever I need it. The fact that he reached out when he heard I was leaving the casino and offered me a job is something I won't forget." -Jordan Crahan
"I enjoy working with Justin because he is a great leader who works to ensure everyone feels heard and knows they are a vital piece of the team, no matter how big or small our roles are." -Olivia Rick
"Right away I discovered Justin is a very smart, caring, and open-minded individual and he continues to prove that." -Shannon Devine
Any funny stories to share?
"I always laugh hearing Justin mutter obscenities to Bruce Willis in the background of our calls!" -Jenna Downs
"We were having breakfast at 3am in Vegas at G2E, 2021 with friends-clients while trying to decide if this would be considered first-breakfast, second-dinner, dessert-breakfast or if we needed to make a new name for it #marketing." -Abby Yates
"Too many to count. I remember hearing stories about him having to explain to management the reason he let me create some of the video content we made at our last property together. Though I wasn't in the room, I would've loved to be a fly on the wall for that conversation." -Jordan Crahan
Like Jordan, I've got too many funny stories to share about Justin! The common thread throughout these experiences' ties so well into the Justin I've known my whole life. A wonderful leader, honest in a biting yet eloquent way, and a charismatic nature that people can't help but want to get to know better. Happy Birthday Justin! Here are birthday wishes from the team.
"HAPPY BIRTHDAY! Wishing you the very best in your next chapter." -Jenna Downs
"Life is a gift we get to unwrap every single day. I hope you know how appreciated you are and what a difference you're making for Indigenous communities and for our team. Thanks so much for being you. Happy 40th!"-Abby Yates
"Happy birthday and thanks for everything! Go do something fun!" -Jordan Crahan
"Happy birthday Justin! Thank you for giving me the opportunity to be a part of this amazing team." -Olivia Rick
"Welcome to your 40's! So far not too bad I say!" -Shannon Devine
This month is Native American Heritage month and at Shank Marketing, we want to highlight the incredible work so many of the Tribes we work with are doing to help restore natural habitats, encourage economic growth in Native communities, and replenish the environment of its natural resources. Many of our clients are committed to giving back to their communities in so many ways and throughout the month we want to express our gratitude and appreciation for their continued efforts since time immemorial.
We are so fortunate to work with clients throughout the Pacific Northwest, where many of our Shank Marketing team also reside. Washington state is well known for its beautiful and bountiful trees, once thriving river and ocean systems, and the constant rain that attributes to our illustrious landscapes. However, the land has changed enormously and due to human development and neglect has wreaked havoc on once thriving ecosystems and wildlife. One of these resources are the salmon that were once plentiful throughout the Western Washington river ecosystems. According to the Northwest Indian Fisheries Commission, "the tribes in Western Washington participate in the annual Pacific Salmon Commission meetings to promote their harvest opportunity, but their primary focus is conservation of depressed chinook and coho stock"(www.nwific.org). We are so proud to work closely with several Washington state tribes; Tulalip, Lower Elwha Klallam, Puyallup Tribe of Indians, Suquamish, Swinomish, all of which are Coast Salish tribes, or tribes that are a part of the Salish Sea basin that is rich in heritage between rivers and the ocean. We are so appreciative of the heroic efforts of those that came before us to affect change, and express our gratitude for the continued efforts of Washington State Tribes to return the land to its more natural condition.
The days have grown colder, the leaves brightening and changing, and the season of gratitude, togetherness, and remembrance has begun. At Shank Marketing, November also holds special significance as we observe Native American Heritage month. We know a month of reflection and celebration for the rich and bounteous Native cultures will never be enough to erase the many wrongs and injustices done to the first people of America. Each day can be an opportunity to highlight the incredible work so many of the tribes we work with are doing to help restore habitat, encourage economic growth in Native communities, and replenish our environment to its natural and once bounteous condition. We are so grateful to work with several tribes in Washington, Wisconsin, Oklahoma, California, and Oregon and will highlight their incredible efforts throughout the month.
The history of Native American Heritage Month is one that spans time immemorial. It is a time to bring attention to lesser-known heroes in American history and embrace the past and present efforts of Native American people. According to Native News Online, Dr. Arthur Caswell Parker, a Cattaraugus Seneca Indian, was one of the first known advocates to introduce a day of celebration for Native Americans (www.nativenewsonline.net). He dedicated his life towards Native American efforts and advancement and established several American Indian rights organizations. Shockingly, in 1924 Native Americans were finally granted American citizenship, and Dr. Parker strongly advocated for what should've been a birthright. Another exceptional Native rights advocate was Reverend Red Fox James, of the Blackfoot Tribe. Reverend Red Fox James, "embarked on a 4,000-mile trek on horseback to petition the President for an "Indian Day" (www.nativenewsonline.net). These heroic efforts were still not enough to bring attention and recognition to Native communities and it wasn't until 1994, that official proclamations were issued each year.
We are so proud to work closely with several Washington state tribes; Tulalip, Lower Elwha Klallam, Puyallup Tribe of Indians, Suquamish, Swinomish, all of which are Coast Salish tribes, or tribes that are a part of the Salish Sea basin that is rich in heritage between rivers and the ocean. In Oregon, we work with the Cow Creek Band of Umpqua Tribe. In California, we work with the Redding Rancheria Tribe with Pit River, Wintu, and Yana people. We also work with a tribe in Wisconsin, the Sokaogon Chippewa community, and in Oklahoma the Kickapoo Tribe of Oklahoma. Within our team at Shank Marketing, Abby Yates is a Tribal Member with the Nooksack Indian Tribe, and Olivia Rick is a Tribal Member with the Puyallup Tribe of Indians. We want to encourage people to take the time this month for reflection and to honor and express our gratitude for true Native American heroes, both past and present.
The Northwest Regional Casino Marketing Boot Camp will be held at the Suquamish Clearwater Casino Resort, in Suquamish, WA from October 24-26th. This is the first time this event will take place in the northwest and we're thrilled to gather with like minded folks in such an incredible setting. This collaborative experience is one that highlights the innovative efforts of marketing businesses to reach our customers in up to date and groundbreaking ways. We're eager to be in an environment where colleagues, professionals, and entrepreneurs get to stretch our minds, indulge our creative side, and learn more about how to keep up with the ever-evolving world of casino marketing. Justin will be a session Coach teaching the benefits of marketing through social media content. He's honored to be coaching alongside such talents in the industry as Julia Carcamo, Dan White, Bobby Thornton, Elizabeth Dixon, and Daniel Kustelski.
Social Media: Content Marketing for your Casino
At Shank Marketing, we pride ourselves on our ability to keep up with the times and constantly strive to be inventive so our clients can utilize the many facets and opportunities social media engagement provides. We love attending and moderating events like Casino Marketing Bootcamp NW. It gives us the opportunity to educate ourselves, learn best marketing practices, and bring our own ideas to the forefront of the industry. Recently, Julia Carcamo interviewed Justin on LinkedIn (Casino Marketing Boot Camp), to discuss the ways in which he plans to engage everyone with a special assignment before they get to the Suquamish Clearwater Casino Resort. He'll be challenging attendees to think about their usage of social media platforms in ways that are simple, consistent, and constant. His hope is to highlight casinos through the eyes of customers. In the day to day experience of being at work, we often forget to look around at the space around us. Creating constant content can be exhausting but he plans to emphasize how to use your own facility in new and varying ways to help bring in more customers and excitement surrounding these businesses. This session with Coach Justin (Social Media: Content Marketing for your Casino) will be held the final day of this exciting three day event, on October 26th at 9am.
If you're attending the Casino Marketing Bootcamp NW at Suquamish Clearwater Casino Resort (casinomarketingbootcamp.com) October 24-26th please reach out to connect!
There has been a lot of buzz and excitement surrounding the Global Gaming Expo (www.globalgamingexpo.com) next week at The Venetian in Las Vegas from October 10-13. Every time the event is brought up in meetings and discussions, faces light up, voices raise, and a general enthusiasm sweeps our collective computer screens. It is evident that this event has an impact on our team in so many ways.
"My favorite part about attending G2E is getting a chance to catch up with industry folks who I have known for years. Getting a chance to hear about the growth of their properties, tribes and careers is really amazing. I have been able to watch my colleagues make huge strides for their own tribes. It is really heartening."-AbbyJustin and Abby were eager to share their long standing history with G2E. Justin has been going since 2011, and as Shank Marketing since 2017(the first year he started the company). Abby has attended regularly since 2003, when she was only twenty years old. She remembers clearly how impressed she was by her surroundings and knew she'd be returning. They expressed how important the event is in terms of networking, engagement, and innovative new technologies surrounding the marketing and gaming industry. Ultimately, both love being a part of the casino industry and connecting with others to learn and grow as a company. Justin says, "we hope to share more about what our company can do to help potential new clients in our industry, but mostly we're just excited to strengthen relationships with clients and continue building our network."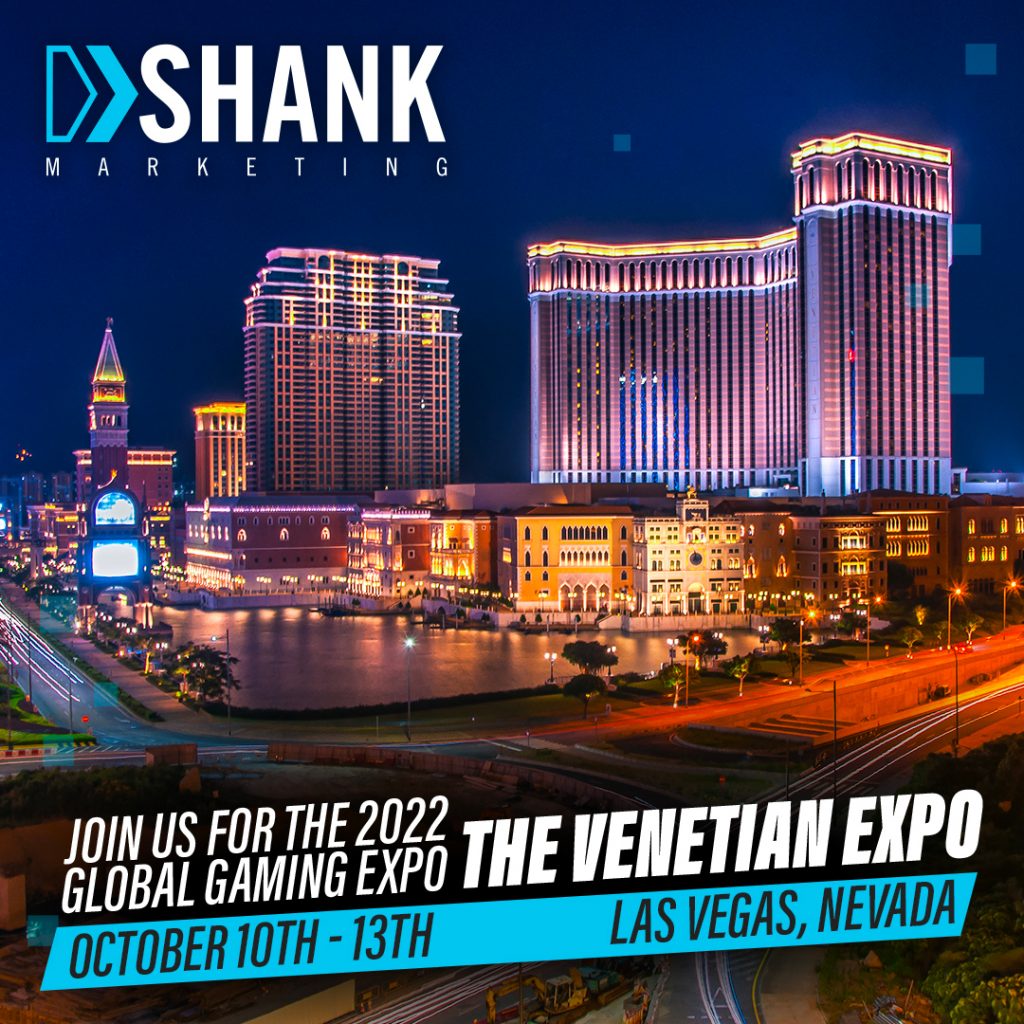 The Shank Marketing team is thrilled to attend one of the top events gathering so many talented individuals in the industry. We look forward to seeing and connecting with everyone attending two of our sponsored events. On Tuesday, October 11th, from 5:30-7:30, a Happy Hour event will be held at Sugarcane in The Venetian. Sponsored by Shank Marketing, J Carcamo &Associates, MMRC, C3 Gaming, and Profitable Customers. The Native Networking party is on Wednesday, October 12th from 8pm-12am at the Ghost Bar in the Palms Casino Resort. Sponsored by Shank Marketing, Raving, TG&H, SlotC, Red Circle, eConnect, TutorPerini, and Kencocompany. Justin Shank, Jordan Crahan, and Abby Yates are excited for another incredible G2E, held at The Venitian Expo in Las Vegas from October 10-13th. Please reach out and connect we'd love to meet up and discuss the potential of working together and meeting new talents in the industry!
Travel season is here and we're having a blast catching up with friends, playing a few holes in tournaments, and checking out the latest and greatest advancements in the field.
This week we're attending the 2022 Northwest Indian Gaming Conference & Expo (WIGA). We're excited to be attending for a number of reasons including that it's being held at the scenic Tulalip Resort & Casino. Aside from the beautiful setting, Justin is moderating a panel discussion titled "Social Media — An Operations Point-of-View."
Joining him will be JaNessa Bumgarner, CEO at Lucky Eagle Casino & Hotel, Kevin Zenishek, Executive Director of Casino Operations at Northern Quest Resort & Casino, and Letisha Peterson, GM at Legends Casino Hotel.
Social Media — An Operations Point-of-View
The scope of social media marketing has grown beyond the marketing department into everything we do as organizations to engage with players, employees, guests, and our local communities. Our panel will discuss social media from the operations perspective and provide some key takeaways for every leader in our industry to consider. How are we leveraging social media to innovate and attract new employees and/or players? How are we sharing news, events, promotions, and information about our casino property? What can we do to encourage participation throughout the organization to expand the digital footprint of our casino brands?
If you're attending WIGA and want to learn more about Social Media from an operations point of view, be sure to check out the session on June 21 at 4:00PM.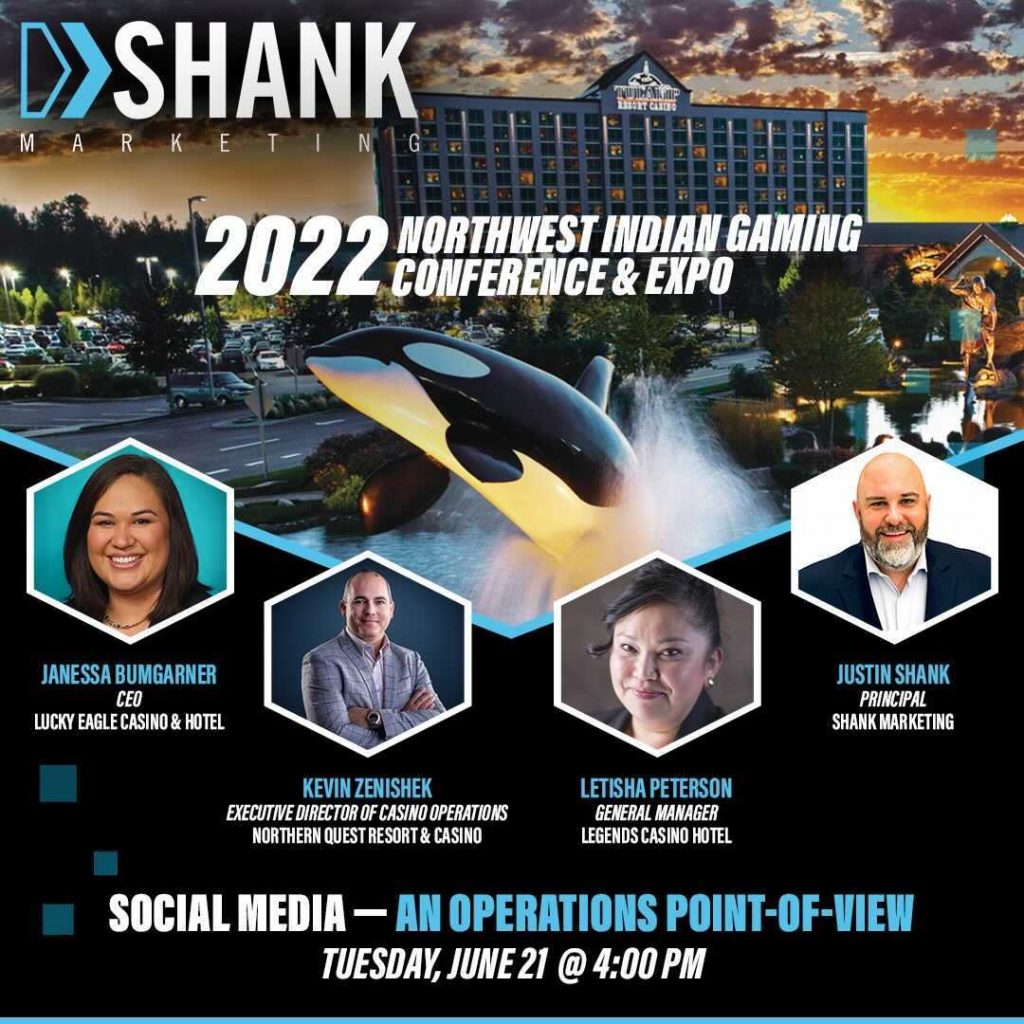 Over the course of the next couple months you can catch us at a few more conferences including the Casino Marketing & Technology Conference, The OIGA Conference & Tradeshow, and… of course, G2E! Slide into our DMs or send a text if you'd like to connect. We're always down for a cup of coffee, any and all snacks, and gambling action!
Our Upcoming Conference Travel Schedule:
July 12-13: Casino Marketing & Technology Conference — Las Vegas, NV
August 9-11: The OIGA Conference & Tradeshow — Tulsa, OK
October 10-13: G2E — Las Vegas, NV
What are Instagram Ads?
You may have bought your favorite pair of jeans from an IG ad, or purchased that Amazon item due to an ad you scrolled by. Instagram advertisements are posts that are paid by the advertising business to market to users and will usually include a small "Sponsored" banner across the top of the post.
As of January 2022, there are 1 billion active Instagram users with 500 million DAILY active users*. That's a lot of business potential to tap into.
Types of IG Ads
Here are the 5 most popular types of Instagram advertisement formats:
Image: Image ads allow businesses to use a photo or graphic to market it's brand and products in a user's feed.
Video: Video ads allow more of a narrative to be told. This can be good for a business to promote its brand and voice. Videos can be up to 60 seconds, but less is more in this case.
Instagram Stories: These are image or video ads that take up the entire screen in the Stories function. Many feel it's more immersive and engagement is higher.
Carousel: This type of ad features multiple images or videos that allow physical engagement by having the user "swipe" through. This is used to showcase a series of products or a story.
Shopping/Tagged Ads: Shopping ads allow customers to purchase products from IG or have them click a link that takes them directly to the company's website.
With all that being said, it is up to the business to decide which format will provide them the best results based on their specific engagement goals.
Why Should You Use Instagram Ads?
According to Business.com about 72% of Instagram users reported purchasing products*. This data helps us to understand the potential IG has to help businesses achieve engagement, reach, site traffic, and overall brand awareness. Not only are Instagram Ads budget friendly for businesses, it provides a larger reach, and the various formats allow specific tailoring to target customers. These social media ads are also a more creative way to market and allow your brand voice to uniquely stand out.
Another cool feature to these ads is the incorporation of influencer marketing! This advertising strategy allows businesses to promote content created by influencers on OTHER people's feeds. This influencer- created content can even be seen by users who do not follow the influencer's account. These ads are almost the exact same as the usual ads on Instagram, however in the post there will be a "paid partnership" label attached to the post. According to a New York Times article, businesses wish to utilize influencer marketing on this platform because "promoting content directly from an influencer's handle inherently gives the post more authenticity than coming from a brand handle". This gives the audience the authentic and organic content that they crave!
For any questions you may have, don't hesitate to contact Shank Marketing for any of your advertising needs. We can help guide you in the right direction when it comes to social media marketing and advertising.
It's hard to believe that we're already a few weeks into January. Whether you're breaking down the holiday decorations or ditching your resolutions, make sure you consider elevating your digital promotions game. We're offering four customizable promotions for 50% off! Keep reading to learn more.
With the most romantic holiday of the year approaching, use this as your opportunity to let your clients know what you have to offer. Go ahead, embrace the pink and red tones of the season! Our Memory Match game allows you to use pre-selected themed tiles or your own images. Are you trying to push your Valentine's Day promotions? This option will allow your guests to enter for their chance to win a preplanned romantic itinerary, something else, or we can omit the prizes so your guests can just enjoy a fun themed game! This game can be set up for a variety of different winners and prizes such as dinners, gaming credits, spa treatments, and lots more! Try out our sample memory matching game here.
The big football game is only a few short weeks away! Whether your business has plans for the game or you'd just like to use the opportunity as a fun themed marketing event – our word search game is a great option. With this game, you can select your own words to search – like your company name, or stick to the theme with football terms. Like all of our promotions, you can select your own prizes, too – tickets to a viewing party, branded gift basket, complimentary drinks, or something totally different! Try out our word search here.
Of course, once football season is over, we have to start preparing for St. Patrick's Day. This is a huge holiday in the hospitality industry, that's why we're offering an interactive picture search. You guessed it, this promotion is 100% customizable too! Use an image of your business, your product, something else, or go with one we've provided. You pick the prizes, we'll make the game! Check out our sample image search here.
You might not have filled out your brackets yet, but you will be soon! With college basketball being a month-long event, it's important not to gloss over this one. For this basketball extravaganza, we've put together a customizable prize wheel. Your guests can spin the virtual wheel to win a prize, which you can choose the likelihood of winning. Give our sample a spin here.
To start off, let's answer the obvious- What does ephemeral content even mean? It may sound odd at first, but ephemeral content really just refers to media content that is accessible for a very short period of time, usually only lasting 24 hours.
Ephemeral content can take many forms but it is mostly associated with video content, gifs, memes, live streams etc. The examples that you are probably most familiar with are Instagram and Snapchat stories, with the occasional Facebook short video and story feature. Just as the feature name suggests, it has created a new concept of portraying content dubbed "ephemeral storytelling".
A New Structure of Storytelling
Let's delve into the phenomenon of ephemeral storytelling. The unique aspect of this marketing strategy is that it creates a more natural and authentic narrative to what you're showing your audience. This form of storytelling gives what consumers want most from brands: authenticity.
A 2018 Forbes article written by Thomas Harding (CEO of Mish Guru), stated that a 2017 global study found that 86% of consumers say authenticity is key when deciding which brands to like and support. However, only 57% of consumers think that less than half of brands create content that resonates as authentic (T.Harding, Forbes). This can be jarring for many businesses in our current era of marketing and advertising. Nowadays, people don't gravitate towards the cookie-cutter perfection of edited and polished content. Audiences want to see the behind-the scenes of businesses, they want to see the character and personality behind brand voices, and they want to see that unique voice come to life through content. This is why a lot of big name companies such as Wendy's, Netflix, and of course Snapchat have obtained their audience base and engagement.
What Makes It The Superior Marketing Strategy?
This user generated- content (UGC) feature allows increased daily engagement and enables trust to be formed between companies and their consumers in an informal but direct way. Additionally, because of the short exposure time, ephemeral content creates a sense of urgency within the audience to participate in the viewing of the story or live stream.
To make more sense of it, using a quick example that's a bit closer to home… If a casino wanted to increase participation on one of their platforms, let's say Instagram, they could promote a giveaway via a livestream where winners would be announced at a specific time on that particular livestream. Of course it could be archived for followers/winners to watch later, but nevertheless it contains the key aspects of how ephemeral media is utilized: authentic behind-the-scenes interaction, a sense of urgency, and a personal aspect that connects the customers with the platform and company. You could also spice it up with the presence of an influencer, whether it be a social media takeover or just a guest appearance to announce the winners. There are so many ways to execute this feature, and the ones that get the most attention are the ones that are creative and consistent with it.
How Brands Should Utilize It

Simply put, the purpose of this type of marketing is to maximize the volume of content and viewership while putting in minimal effort. Take advantage of what the platforms have to offer. If you post a picture of something that stirs opinion or conversation, consider placing a poll or topical GIF to let the audience interact and provide feedback. On Instagram Stories, there is even a "reaction" feature, and more likely than not, people will want to use those quick indirect symbols to show support rather than comment on a post. Engagement is engagement, there are many ways to record it, but even more ways to obtain it. So again, creativity and authenticity is key!
The continuous rise of ephemeral content will not falter anytime soon. Popular platforms such as Instagram, Snapchat, and TikTok will see to it that the most watched content is personal, clever, and quick. What the marketing world can do is use that to its advantage.
Our goal is engagement. If people don't see what we're creating, what is the point of creating it? The best way is to constantly be adapting to the changing trends of content consumption. As of right now audiences gravitate towards the more informal, familiar and human-like content from brands who have fresh and individual voices. With ephemeral digital marketing in your tool belt, those concepts can be actualized.
As you continue to think about what lies ahead in the marketing industry, consider reaching out to us at Shank Marketing! We're here to help you with any inquiries related to digital marketing and social media. Our team can help you implement the latest marketing strategies to increase your engagement with your audience.